Thursday, January 23, 2020
For Immediate Release
Shane Rhinewald, 585-410-6365, srhinewald@museumofplay.org
Noelle McElrath-Hart, 585-410-6325, nmcelrath@museumofplay.org
The Strong
is pleased to announce that museum trustee and long-time supporter Mary Valentine has pledged a gift of $1 million to
Powered by Play: A Campaign for The Strong
. The funds will directly support the museum's transformative expansion project—which includes a parking garage (nearly complete) and new, 90,000-square foot museum wing—as part of the larger
Neighborhood of Play
. In honor of the gift, a planned terrace and café space (adjacent to the new outdoor play garden), will be named the Valentine-Cosman Terrace and Café and host a series of ongoing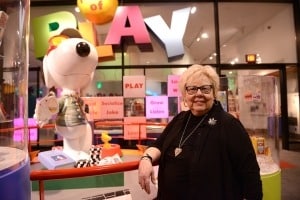 musical performances. The donation will also help to expand the museum's senior programming.
"Mary Valentine has been a booster, advocate, collections donor, financial supporter, and most importantly, friend, to the museum for many years," says Steve Dubnik, president and CEO. "We appreciate her ongoing generosity and her many other contributions to the museum. Gifts like this help The Strong continue to grow and share its important mission more widely."
Valentine, who joined the museum's board in 2019, co-owned a game store with her late husband, Andrew Cosman, a lifelong game enthusiast and collector. In 2013, Valentine donated an extensive collection of games to the museum, and in 2014, she established the Mary Valentine and Andrew Cosman Research Fellowship to provide financial support for scholarly play research about games and related topics of play across The Strong's collections of toys, games, board games, electronic games, play-related records, and historical archives. In 2017, she established a tuition-assistance program for needs-based students to enjoy enrollment in The Strong's Woodbury School. The following year, she donated additional games and a Snoopy sculpture that has been installed outside the museum's Field of Play exhibit. Her other museum philanthropy has supported The Strong's Play Ball fundraising gala (at the All-Star level), Happiest Hour fundraisers, and the museum's Collections Committee (which assists with acquisitions and maintenance for the collection).          
 
"The Strong holds a special place in my heart," says Valentine. "My late husband and I shared a passion for play and games, and there's no other place in the world like
The Strong
at preserving and studying that history. We're also big advocates for increasing educational opportunities, and The Strong is doing great work teaching through the power of play. The museum's expansion project will only add to their preservation capacity and allow for hundreds of thousands of more people per year to experience the magic of play."
The project, which is estimated to draw an additional 400,000 guests to the Rochester area (bringing annual attendance to nearly one million) and have an annual economic impact of $130 million on the region, is slated to be complete in 2022.
About The Strong
The Strong is the only collections-based museum in the world devoted solely to the history and exploration of play. It is home to the International Center for the History of Electronic Games, the
National Toy Hall of Fame
, the World Video Game Hall of Fame, the Brian Sutton-Smith Library and Archives of Play, the Woodbury School, and the
American Journal of Play
.