Thursday, March 5, 2020
For Immediate Release
Shane Rhinewald, 585-410-6365, srhinewald@museumofplay.org
Noelle McElrath-Hart, 585-410-6325, nmcelrath@museumofplay.org
ROCHESTER, NY—The Strong museum, home to the International Center for the History of Electronic Games and World Video Game Hall of Fame, has partnered with Kongregate, one of the leading publishers and portals for Adobe Flash Player (a multimedia software platform) games, to preserve Flash gaming history. Support for the Flash plugin will end in 2020, meaning that many of these games risk being lost or unplayable in the future. The collaboration allows the museum to download and preserve the tens of thousands of Flash games uploaded to Kongregate, making them available for educational and research purposes.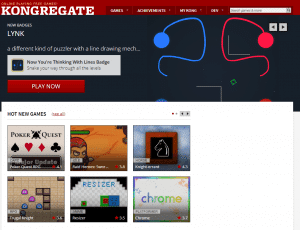 "Flash games are an important piece of gaming history. They provided access to countless games for free to anyone with an Internet connection," says Andrew Borman, digital games curator at The Strong. "Flash games were relatively easy to create, and therefore they opened the game development process to thousands of people, some of whom went on to produce commercial games. Flash games also introduced themes and play mechanics that became popular in many video games, especially with the rise in the popularity of mobile games."
The Strong will preserve the digital materials of the Flash games, including associated metadata, at the museum. The games will be accessible to on-site to researchers by appointment, and The Strong will implement best practices to ensure that these games can still be played as they were originally developed.
"By partnering with The Strong, we can ensure that Kongregate's collection of Flash games will help future generations understand the impact that these games have had on society," says Janet Ebsen, Director, Platform and Player Relations. "For the developers of these games, this is a unique opportunity for their art to be recognized and preserved by a leading museum in the video game field. That's really cool."
About The Strong
The Strong is a highly interactive, collections-based museum devoted to the history and exploration of play. It is one of the largest history museums in the United States and one of the leading museums serving families. The Strong houses the world's largest and most comprehensive collection of historical materials related to play and is home to the International Center for the History of Electronic Games, the National Toy Hall of Fame, the World Video Game Hall of Fame, the Brian Sutton-Smith Library and Archives of Play, the Woodbury School, and the American Journal of Play. Together, these enable a multifaceted array of research, exhibition, and other interpretive and educational activities that serve a diverse audience of adults, families, children, students, teachers, scholars, collectors, and others around the globe.
About Kongregate
Kongregate was formed by Jim and Emily Greer more than 10 years ago with the vision of creating an open platform for indie games with a strong focus on community engagement. Since inception, Kongregate has always prioritized treating developer partners fairly and honestly. A decade after its introduction, Kongregate is a leading mobile & PC game developer, publisher, web gaming portal, and creator of Kartridge, a new downloadable PC gaming platform. Through its publishing program, it works closely with game developers to provide a multitude of services to help great games become even better. Kongregate's mobile games have been downloaded hundreds of millions of times and have billions of gameplays. Together, Kartridge, a downloadable PC gaming platform, and Kongregate.com feature thousands of games played by millions of gamers each month.