Thursday, February 6, 2020
For Immediate Release
Shane Rhinewald, 585-410-6365, srhinewald@museumofplay.org
Noelle McElrath-Hart, 585-410-6325, nmcelrath@museumofplay.org
Delight in live musical performances featuring music from movie adaptations of beloved stories during Story Time LIVE at The Strong museum on Sunday, March 1 at 2 p.m.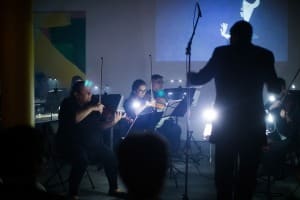 Visit the museum's Paychex Theater and listen as a narrator tells short stories about heroic adventures. Journey through enchanting worlds with music from The Hobbit, explore a magical land with tunes featured in 2003's Peter Pan, and listen to music from the 2010 version of Alice in Wonderland. Watch the music come to life with film clips and images during the performance.
Story Time LIVE performances and activities are included with general museum admission fees. Programs underwritten by Delta Air Lines, the official airline of The Strong. This performance was made possible by contributions from Eastman's Beal Institute of Film Music and Contemporary Media.
================================================================================
Museum Hours: Monday–Thursday, 10 a.m. to 5 p.m.; Friday and Saturday, 10 a.m. to 8 p.m.; Sunday, noon to 5 p.m.
General Admission Fees (does not include admission to Dancing Wings Butterfly Garden®): age 2 and older $16, under age 2 free, members free. Fees subject to change.
Admission to Dancing Wings Butterfly Garden: General Admission fee plus $4 for members, $5 for non-members, under age 2 free. Entry is by timed ticket only. Fees subject to change.
Parking: Parking is available on a first-come, first-served basis in the museum's parking garage for $5 for non-members and free for current museum members through April 30. The garage can be accessed from Howell Street on the south side of the museum. Please note that, on high visitation days, the museum garage may reach capacity early in the day. If space is not available on site at the time of your visit, additional parking is available at neighboring municipal garages for a fee. The Strong is not responsible for fees incurred at off-site locations.