Friday, July 24, 2020
For Immediate Release
Shane Rhinewald, 585-410-6365, srhinewald@museumofplay.org
Noelle McElrath-Hart, 585-410-6325, nmcelrath@museumofplay.org
Come one, come all! Celebrate the summer season and rack up points in Pop-Up Midway, an original exhibit opening at The Strong museum on Saturday, July 25. Step up to more than a dozen coin-op games and journey through an area reminiscent of seasonal fairs, carnivals, and boardwalks. Collect your tickets from each game to earn special prizes, including stuffed animals, stickers, and more.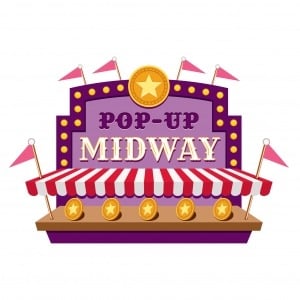 "This pop-up summertime exhibit celebrates the midway tradition of playing for prizes," says Jon-Paul C. Dyson, director of The Strong's International Center for the History of Electronic Games. "Like fairs, carnivals, and boardwalks, midways have entertained Americans for generations. They give us the chance to test our dexterity and mental prowess, show off, and—with a little skill and luck—win prizes. The Strong is excited to showcase a selection of its coin-op arcade and redemption games for people to play."
Test your skill in modern electronic games. Earn a high score in arcade versions of popular mobile games, including Temple Run, Angry Birds, Fruit Ninja, and Jetpack Joyride. Find out your strength in Whack 'N Win to earn a jackpot filled with tickets. Grab a friend and challenge them to a race in Hot Wheels or a larger-than-life round of Space Invaders Frenzy.
Take a trip back in time to play classic games from the 1980s and 1990s. Aim for the target to earn points on Quick & Crash and dunk on the competition with Hot Shots and Hoop it Up. Play through pinball games such as Super Mario Bros. Mushroom World, Ticket Tac Toe, and Flintstones Pinball.
Check out special featured artifacts from The Strong's collection. View a strength tester from the early 20th century and a fortune teller game from the 1950s. Discover the important role carnivals, amusement parks, fairs, and boardwalks had on the history of American play.
The exhibit is produced by The Strong's International Center for the History of Electronic Games. Exhibit included in general museum admission fees.
Playable machines in Pop-Up Midway require purchased tokens. Money collected from the sale of tokens helps maintain these original artifacts.
================================================================================
Museum Hours: Reserved sessions are available Sunday–Thursday, 9 a.m.–noon & 1–4 p.m.; and Friday and Saturday, 9 a.m.–noon,1–4 p.m. & 5–8 p.m. All guests, including members, must have a timed ticket to enter the museum. Learn more at museumofplay.org/play-safe.
General Admission Fees: Age 2 and older $16, under age 2 free, members free. Non-members may visit the museum beginning July 6. Fees subject to change.
Admission to Dancing Wings Butterfly Garden: General Admission fee plus $4 for members, $5 for non-members, under age 2 free. Fees subject to change.
Parking: Parking is available on a first-come, first-served basis in the museum's parking garage for free now through the end of July. Starting August 1, parking is $5 for non-members. Members can use one of their six annual parking validations during their visit beginning August 1. Once all validations are used, members may park in the garage for $5. More details at museumofplay.org/visit/directions-and-parking.