Friday, February 14, 2020
For Immediate Release
Shane Rhinewald, 585-410-6365, srhinewald@museumofplay.org
Noelle McElrath-Hart, 585-410-6325, nmcelrath@museumofplay.org
Marvel at more than 150 orchids in Dancing Wings Butterfly Garden during Orchids in Bloom at The Strong museum from Friday, March 13 through Monday, May 4. Enjoy a rare opportunity to get up close to a variety of colorful orchids from all over the world—including Central and South America and Asia—and take pictures as butterflies rest on the flowers.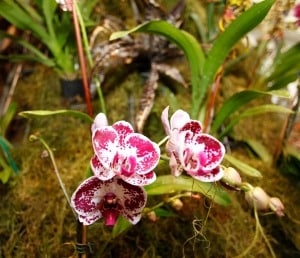 "Orchids in Bloom is an exciting annual event we have hosted in Dancing Wings Butterfly Garden for the past four years," says Craig Sherwood, manager of grounds and live collections at The Strong. "Each year, we see an increase in visitors to the garden who enjoy the opportunity to capture beautiful photos of the orchids along with the hundreds of butterflies that live in the garden."
Dancing Wings Butterfly Garden is the only year-round, indoor butterfly garden in upstate New York and is home to hundreds of free-flying, tropical and native butterflies, as well as button quail, a chameleon, turtles, a tortoise, and a green aracari toucan.
Garden fees apply for Orchids in Bloom. Guests may purchase general museum admission plus butterfly garden tickets online or at the museum's admissions desk. The event is presented in memory of Carol D. Simmons.
================================================================================
Museum Hours: Monday–Thursday, 10 a.m. to 5 p.m.; Friday and Saturday, 10 a.m. to 8 p.m.; Sunday, noon to 5 p.m.
General Admission Fees (does not include admission to Dancing Wings Butterfly Garden®): age 2 and older $16, under age 2 free, members free. Fees subject to change.
Admission to Dancing Wings Butterfly Garden: General Admission fee plus $4 for members, $5 for non-members, under age 2 free. Fees subject to change.
Parking: Parking is available on a first-come, first-served basis in the museum's parking garage for $5 for non-members and free for current museum members through April 30. The garage can be accessed from Howell Street on the south side of the museum. Please note that, on high visitation days, the museum garage may reach capacity early in the day. If space is not available on site at the time of your visit, additional parking is available at neighboring municipal garages for a fee. The Strong is not responsible for fees incurred at off-site locations.