Monday, November 9, 2020
For Immediate Release
Shane Rhinewald, 585-410-6365, srhinewald@museumofplay.org
Travel back to the 1990s—the era of grunge and the rising Internet—to explore the toys, dolls, and video games that shaped a generation at Millennial Madness, a new display featured in The Strong museum's ex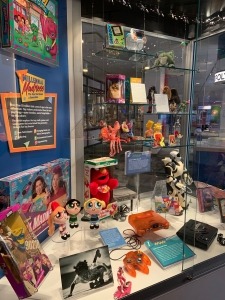 hibit.From Beanie Babies and Tickle Me Elmo to the Sega Genesis and Nintendo 64, learn about how these iconic playthings entertained and influenced more than 80 million kids:
Discover how changing technologies and widespread access to the Internet spurred a boom in technology toys, like the virtual pet Tamagotchi and the interactive Furby.
Get caught up in the collecting craze of the 90s with Beanie Babies and Teenage Mutant Ninja Turtles action figures.
Explore the changing face of toys and see how companies began diversifying their products with more multicultural toys, such as Mattel's Shani doll. Also, learn about the successes of Olmec Toys, Golden Ribbon Playthings, and other Black-owned toy manufacturers.
Learn about the rise of environmental consciousness in the 90s and how it was reflected in toys, from environmental heroes like Captain Planet to a reimagined G. I. Joe, now battling eco-terrorists.
Explore the decline of free play and how Baby Einstein's line of toys, videos, and music reflected the era's growing micromanagement of play.
Millennial Madness is produced by The Strong and is included with general museum admission fees.
================================================================================
Museum Hours: The museum's fall hours are 10 a.m. to 3 p.m. daily. All guests, including members, must have a ticket to enter the museum. Learn more at museumofplay.org/play-safe.
General Admission Fees: Age 2 and older $16, under age 2 free, members free. Fees subject to change.
Dancing Wings Butterfly Garden Hours: The garden's fall hours are 11 a.m. to 2:30 p.m. daily. Last entry is at 2:15 p.m.
Admission to Dancing Wings Butterfly Garden: General Admission fee plus $4 for members, $5 for non-members, under age 2 free. Fees subject to change.
Parking: Parking is available on a first-come, first-served basis in the museum's parking garage for free now through the end of July. Parking is $5 for non-members. Members can use one of their six annual parking validations during their visit. Once all validations are used, members may park in the garage for $5. More details at museumofplay.org/visit/directions-and-parking.