Monday, January 6, 2020
For Immediate Release
Shane Rhinewald, 585-410-6365, srhinewald@museumofplay.org
Noelle McElrath-Hart, 585-410-6325, nmcelrath@museumofplay.org
Run, hop, or slide into the museum for active play during Fit Kids Day at The Strong museum on Saturday, February 1 from 10 a.m. to 3 p.m. Try out new activities, find out where to play in your neighborhood, and more: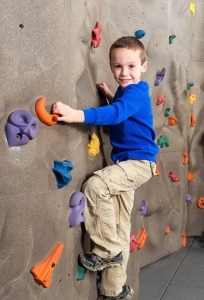 Join staff from the YMCA of Greater Rochester to learn about summer camp offerings and enjoy demonstrations of hip-hop dance, archery, and martial arts.
Find out where to take part in active play from the City of Rochester recreation department.
Explore ways to make play more inclusive with Rochester Accessible Adventures.
Delight in demonstrations by students from Garth Fagan Dance.
Fit Kids Day is included with general museum admission fees. Presented by The Strong and YMCA of Greater Rochester. Public programs underwritten in part by Delta Air Lines, the official airline of The Strong.
================================================================================
Museum Hours: Monday–Thursday, 10 a.m. to 5 p.m.; Friday and Saturday, 10 a.m. to 8 p.m.; Sunday, noon to 5 p.m.
General Admission Fees (does not include admission to Dancing Wings Butterfly Garden®): age 2 and older $16, under age 2 free, members free. Fees subject to change.
Admission to Dancing Wings Butterfly Garden: General Admission fee plus $4 for members, $5 for nonmembers, under age 2 free. Fees subject to change.
Parking: Limited parking is available on a first-come, first-served basis in the museum's parking garage. The garage can be accessed from Howell Street on the south side of the museum. Please note that, on high visitation days, the museum garage may reach capacity early in the day. If space is not available on site at the time of your visit, additional parking is available at neighboring municipal garages for a fee. The Strong is not responsible for fees incurred at off-site locations.