Monday, January 6, 2020
For Immediate Release
Shane Rhinewald, 585-410-6365, srhinewald@museumofplay.org
Noelle McElrath-Hart, 585-410-6325, nmcelrath@museumofplay.org
Spend your weekend with the playful pair Elephant and Piggie at The Strong museum on Saturday, January 25 from 11 a.m. to 4 p.m. and Sunday, January 26 from 1 to 4 p.m. Delight in activities dedicated to Mo Willems' iconic children's books: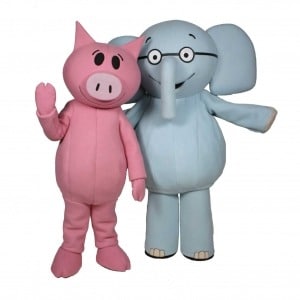 Snap a photo with Elephant and Piggie.
Enjoy story readings of We Are in a Book and Don't Let the Pigeon Drive the Bus.
Act out scenes from Let's Go for a Drive!
Create your own Knuffle Bunny to take home.
Visit the Pigeon Play Area and stop the pigeon from causing trouble.        
Check out some of Mo Willems' classic tales using your Monroe County Library System card.
Elephant and Piggie activities are included with general museum admission fees. Public programs underwritten in part by Delta Air Lines, the official airline of The Strong. Image courtesy of Costume Specialists and Disney Publishing Worldwide.
================================================================================
Museum Hours: Monday–Thursday, 10 a.m. to 5 p.m.; Friday and Saturday, 10 a.m. to 8 p.m.; Sunday, noon to 5 p.m.
General Admission Fees (does not include admission to Dancing Wings Butterfly Garden®): age 2 and older $16, under age 2 free, members free. Fees subject to change.
Admission to Dancing Wings Butterfly Garden: General Admission fee plus $4 for members, $5 for nonmembers, under age 2 free. Fees subject to change.
Parking: Limited parking is available on a first-come, first-served basis in the museum's parking garage. The garage can be accessed from Howell Street on the south side of the museum. Please note that, on high visitation days, the museum garage may reach capacity early in the day. If space is not available on site at the time of your visit, additional parking is available at neighboring municipal garages for a fee. The Strong is not responsible for fees incurred at off-site locations.