Wednesday, January 8, 2020
For Immediate Release
Shane Rhinewald, 585-410-6365, srhinewald@museumofplay.org
Noelle McElrath-Hart, 585-410-6325, nmcelrath@museumofplay.org
Commemorate the legacy of Dr. Martin Luther King, Jr. during Day of Compassion at The Strong museum on Monday, January 20 from 11 a.m. to 4 p.m. Watch performances and take part in activities focused on treating people with kindness.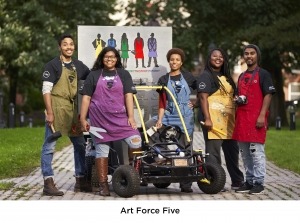 Enjoy the interactive play Go Home Tiny Monster presented by Puppet Showplace Theater at 12:30 and 2:30 p.m. Follow Sylvie and her family of creatures as they search for a new home after being displaced in a show filled with comedy and live music. Performers communicate exclusively with body language to eliminate communication barriers. Sensory support guides are available at the admissions desk by request and online. 
Meet members of Alfred University's Art Force Five, a group that travels the country paying tribute to legendary icons such as Harlem Renaissance leaders, suffragists, and more. See the group's display of their first six (of 19) mosaic portraits celebrating women's empowerment and paint a tile to add to their art collection. Explore your feelings with the book Glad Monster, Sad Monster by Ed Emberly and Anne Miranda, and create a monster mask just like the book. Be inspired by students from the Carlson YMCA before and after school program as they perform Dr. King's famous "I Have a Dream" speech.
Day of Compassion is included with general museum admission fees. Public programs underwritten in part by Delta Air Lines, the official airline of The Strong.
================================================================================
Museum Hours: Monday–Thursday, 10 a.m. to 5 p.m.; Friday and Saturday, 10 a.m. to 8 p.m.; Sunday, noon to 5 p.m.
General Admission Fees (does not include admission to Dancing Wings Butterfly Garden®): age 2 and older $16, under age 2 free, members free. Fees subject to change.
Admission to Dancing Wings Butterfly Garden: General Admission fee plus $4 for members, $5 for nonmembers, under age 2 free. Fees subject to change.
Parking: Limited parking is available on a first-come, first-served basis in the museum's parking garage. The garage can be accessed from Howell Street on the south side of the museum. Please note that, on high visitation days, the museum garage may reach capacity early in the day. If space is not available on site at the time of your visit, additional parking is available at neighboring municipal garages for a fee. The Strong is not responsible for fees incurred at off-site locations.