Monday, September 28, 2020
For Immediate Release
Shane Rhinewald, 585-410-6365, srhinewald@museumofplay.org
Noelle McElrath-Hart, 585-410-6325, nmcelrath@museumofplay.org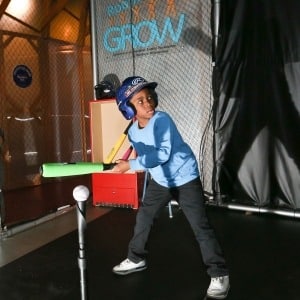 Celebrate the fun of baseball during Batter Up Weekend at The Strong museum on Saturday and Sunday, October 10 & 11 from 11 a.m. to 2 p.m. Learn about the museum's ball python Wiffle during live presentations with the museum's biologist at 11 a.m. and noon. Say hello and meet Rochester Red Wings mascot Spikes from 12:30 p.m.to 1:30 p.m. Tip your hat to the 100th anniversary of the Negro Baseball Leagues, learn from local historian Jeff Klein and his family, and view memorabilia from the Negro Baseball Leagues from his collection. Discover local beep baseball with the Rochester Pioneers, a beep baseball team for blind and visually impaired athletes from children to seniors, and view equipment used in the sport.
Then check out the Big League Fun exhibit, now open in the Fidelis Care Gallery. Learn about the science and math concepts behind the game with engaging hands-on activities for all ages. Give play-by-play based on real game clips, create your own baseball card, interview players and fans using green-screen technology, test your baseball knowledge with trivia questions, and more.
Exhibit developed by the Betty Brinn Children's Museum in cooperation with and the express permission of Major League Baseball Properties, Inc. Programs underwritten in part by Delta Air Lines, the official airline of The Strong.
================================================================================
Museum Hours: The museum's fall hours are 10 a.m. to 3 p.m. daily. All guests, including members, must have a ticket to enter the museum. Learn more at museumofplay.org/play-safe.
General Admission Fees: Age 2 and older $16, under age 2 free, members free. Fees subject to change.
Dancing Wings Butterfly Garden Hours: The garden's fall hours are 11 a.m. to 2:30 p.m. daily. Last entry is at 2:15 p.m.
Admission to Dancing Wings Butterfly Garden: General Admission fee plus $4 for members, $5 for non-members, under age 2 free. Fees subject to change.
Parking: Parking is available on a first-come, first-served basis in the museum's parking garage for free now through the end of July. Parking is $5 for non-members. Members can use one of their six annual parking validations during their visit. Once all validations are used, members may park in the garage for $5. More details at museumofplay.org/visit/directions-and-parking