Make Your Reservation

All group reservations must be submitted online using the Group Visit Request form.
Reservations must be submitted at least two weeks in advance of your visit and are subject to availability. Space fills up quickly so book early!
If a student/child is using their membership to enter the museum with your group, they do not count toward the minimum number required. Member children attending a lesson must pay the lesson fee.
Group reservations are generally processed in 2-3 business days. You will receive an invoice via email confirming your visit.
Chaperones

Children must be supervised at all times. With Lessons, Field Trips, and Youth Groups, the museum requires one adult chaperone for every five paid student/child tickets. These chaperones are included free of charge.
Any additional chaperones visiting with your group will pay the regular admission rate.
If you book a lesson in the butterfly garden, chaperones are included free of charge.
Payment

Full payment or purchase order is due two weeks in advance of your visit date. Unpaid reservations will be cancelled.
If the billing contact is different from the group reservation contact, include those details in the notes section of the Group Visit Request form.
Group reservations are not refundable.
Lunch

A lunch space can be reserved for your group if available. Lunch periods last 30 minutes. We will attempt to schedule your entire group in one lunch period; however, large groups may be scheduled over multiple lunch periods.
Groups may bring a bagged lunch or order from the food court. Lunch bags will be stored on labeled carts in the lunchrooms. We cannot refrigerate or reheat any lunches.
Buses

Buses will drop off at the museum entrance located off Howell Street. Bus Drop Off Map
When you arrive, do not leave the bus until a museum staff member instructs you to do so.
The museum does not have bus parking onsite. Buses may park offsite in a lot located off Alexander Street. This lot is located about two blocks from the museum. Bus Parking Map
Maximum vehicle height for the parking garage is 8' 2".
Other Helpful Information

Make any chaperone-student groupings and review the museum map before arriving at the museum.
A museum staff member will give your group a brief museum orientation when you arrive.
If you have additional adults and children that need to pay, please do so online before arriving.
Ensure you have your bus driver's phone number.
Visit the Accessibility page for social stories and information about accommodations for students with special needs. If a student requires a 1:1 aide, please note that on the group visit request form.
Museum security staff are certified in first aid and CPR. If assistance is required, please notify museum staff.
---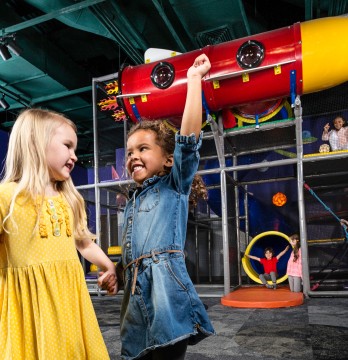 ---
Make a Donation Today
Become a champion for play and help make a difference in the lives of the children and families who play, learn, and grow with The Strong.