The following arcade video games from the extensive collection of the International Center for the History of Electronic Games are on display and playable in the eGameRevolution exhibit of The Strong Museum.
(Note: Arcade games are sometimes rotated for maintenance. This list is updated periodically and is accurate as of the date below.)
List updated November 29, 2021
After Burner
Air Hockey
Aliens
Aliens Armageddon
Angry Birds
Arcade Legends
Arch Rivals
Boot Camp
Centipede
Chexx Hockey
Cruis'n Blast
Cruis'n USA
Donkey Kong Jr.
Fix-It Felix Jr.
Fooseball
Guitar Hero
Gumball Rally
Halo Fireteam Raven
Hot Wheels: King of the Road
Out Run
Pac-Man
Pac-Man Battle Royale
Paper Boy
Primal Rage
Root Beer Tapper
Smash T.V.
Space Invaders Frenzy
Star Wars
Street Fighter
Street Fighter II
Sunset Riders
Teenage Mutant Ninja Turtles
Temple Run
Tetris
Tetris Giant
The Avengers Pinball
Track & Field
Tron
Virtua Racing
---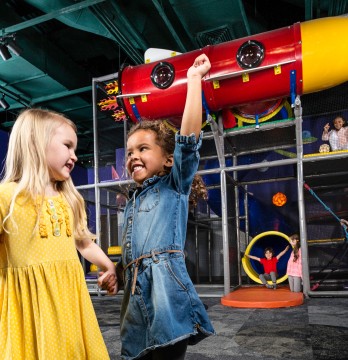 ---
Make a Donation Today
Become a champion for play and help make a difference in the lives of the children and families who play, learn, and grow with The Strong.