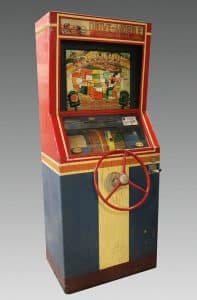 I've admired The Strong's vintage opens in a new windowDrive-Mobile arcade game since the first time I stood in front of it with Martin Reinhardt, the museum's arcade game conservation technician. It was exciting to see how the first arcade driving game—a popular and enduring genre—actually worked. Martin opened the back of the game for me and demonstrated the mutoscope drum design in action. Early mutoscope machines contained a revolving flipbook on a spindle to create the illusion of a moving image when a customer looked through the viewfinder. The International Mutoscope Company first made coin-operated mutoscope machines before they eventually branched out to produce arcade games such as Drive-Mobile.
The objective of Drive-Mobile is to complete a journey across a map of the United States, from New York City to Los Angeles. To start that trip, a player uses the steering wheel that controls a small car on a metal arm inside the cabinet. The car glides along the surface of a rotating drum that displays a changing scene of a painted road with obstacles to avoid. While players cruise along, the backlit map at the top of the game shows a light for each city on the route. If you stay inside the white lines edging the highway, the map charts your progress; however, if you go off the road, lights and buzzers alert you, and your advance across the map slows.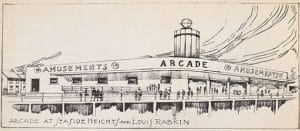 International Mutoscope advertised Drive-Mobile widely after its debut at the 1941 coin-machine trade show. Drive-Mobile represented the first driving arcade game, and it proved very popular at penny arcades, such as Louis Rabkin's Central Arcade in Seaside Heights, New Jersey. In 1948, International Mutoscope added a second drum to Drive-Mobile to create the two-player, side-by-side competition game, Cross Country Race. In 1954, the company released a seated version named Drive Yourself. These three styles of the game—driving, race competition, and the version with a seat—set the precedent for future racing and driving games.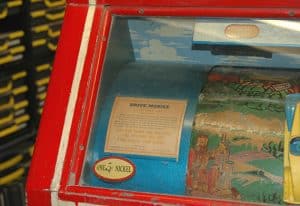 Delighted as I was to see such a landmark game in The Strong's collections, my initial conservation assessment revealed a variety of concerns that Martin and I needed to address before we put Drive-Mobile on display. For example, most mechanical games from the late 1940s and early 1950s were used in penny arcades, giving me a hint that the "Nickel" stickers I saw on Drive-Mobile were later additions. I could also see hints of original paint through cracks in a layer of glossy paint that someone had added in a previous restoration effort. Research also revealed that, when first produced, the cabinet's paint scheme also featured a stylized front car grill. Nevertheless, I decided to leave the later overpaint and stickers as evidence of this particular game's history. I also observed other potential condition issues, including stained paper labels, peeling veneer and damaged wood at the bottom edges of the cabinet, and dirt behind the glass front. Most likely, the game had been used in an arcade for many years and then stored somewhere damp.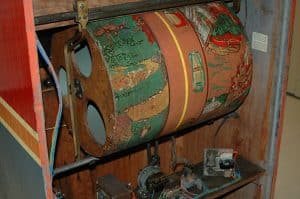 Inside the arcade conservation lab, it took four people to gently lift the heavy cabinet and rest it on its back. Martin and I spent a day working together to clean and repair the cabinet. Opening the cabinet revealed a maze of wires and belt-and-chain-driven mechanical parts that keep the large metal drum rolling. Among the museum's comprehensive collection of artifacts, electromechanical games are unique because their moving parts benefit from occasional use as the movement of the parts prevents corrosion on their metal surfaces. All in all, it was just part of what we do as conservators at opens in a new windowThe Strong—testing and repairing electromechanical parts, treating cosmetic and structural damages, and preserving early arcade games, so they can be enjoyed for many more years to come. After restoring Drive-Mobile, I'm pleased to see it featured at the beginning of a timeline of racing games in The Strong's opens in a new windowRaceway Arcade exhibit and hope that you'll enjoy the results of our team's work too.